Libra, A New Hegemony?
25/10/2019
Klik Di Sini Untuk Versi Bahasa Indonesia dari Artikel Ini
Facebook announced that they were introducing a new virtual currency of their own called Libra. The project that is being worked on is expected to begin releasing to the market in 2020. However, before the appearance of Libra itself is seen, the pros and cons have begun to emerge, including the cynical views of many people. Is it true that Libra will become a new hegemony?
With Facebook users around the world reaching more than 1 billion, then Libra is a savory cake to pass up. Noted, several large companies in the financial sector also participated in this project, including Mastercard, Paypal and Visa (although in the end they declared to leave the Libra group).
Read also : Simple Trading Techniques and Profitable with Alligator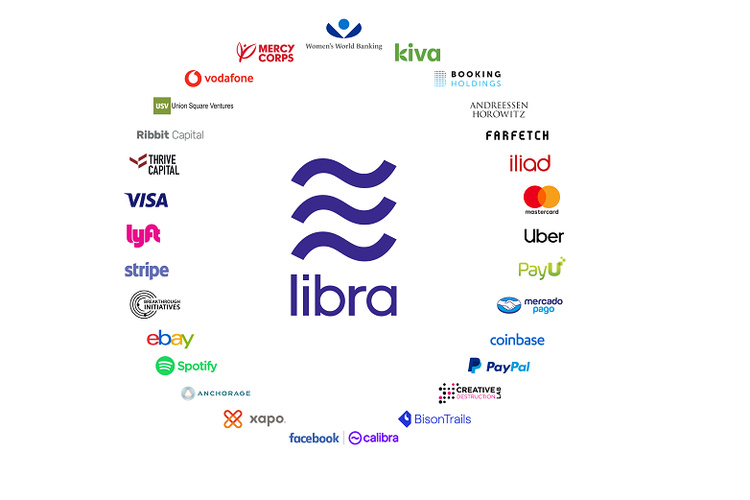 Greetings are also varied. The negative views of course come from existing banking and financial institutions. Bank Indonesia itself has confirmed that the legal tender in Indonesia is only rupiah, when asked about Libra. There are also those who say this can be used by criminals to launder money like other crypto currencies. The positives stated that this will be one of the breakthrough transfers between users throughout the world and will reduce inequality.
The technology they used like other crypto currencies is using Blokchain. Facebook claims that their blockchain technology is safe. Libra itself is overseen by a body that comes from representatives of shares in Libra. However, this council cannot intervene in the number or movement of Libra transactions.
What is unique, Libra does not have an exact number of each unit like crypto currency in general. The value is determined by the US dollar where 1 Libra is equivalent to USD 1. This seems confusing because there is a risk of moral hazard in the form of inflating the amount of Libra even though it is said that it cannot be intervened. In principle, the crypto currency is a fixed amount determined by the maker, in line with the spirit not intervened by the central bank.
The case of the Bitcoin burglary is also a concern for the security of digital currency storage. Libra is stored in a special account called Calibra, like the virtual wallet as we know. The safety and reliability of this storage is a concern to many experts, although the technology will be used in the procurement of Libra is secure, its storage is doubtful.
Back to the hegemony, as we know that Facebook has subsidiary Instagram and WhatsApp which are also widely used by people. Facebook seems to want to fight Alibaba, where the Wechat application can also conduct money transfer activities, although it is still in a limited scope in China. Facebook seems to take advantage of this opportunity by working on markets outside China with the launch of this Libra.
Read also : Gold : Investment, Currency or Trading?

Will this thing can be part of the China-USA trade war in the future? It's possible, especially since the inter-platform payment system is not yet widespread. China itself also has not much to encourage Wechat to expand out, especially in terms of their payments. Alipay who also came from China has not been free to move in the world, and even tends to be obstructed by regulations and rules in other countries.

Obstacles to Facebook are certainly not easy. Because the value is based on USD, there is no fixed value for Libra in other currencies. Coupled with a banking system that seems reluctant to deal with crypto currencies, the Libra ecosystem will be limited to Facebook users et al. Suspicion of hegemony is also strong, especially in countries with many Facebook users. It could be someday they no longer pass transactions through banks for personal matters such as sending family money or paying bills.

All of that makes Libra like a hybrid between crypto currency and digital wallet. The journey for Libra is still long and time will tell whether Libra will become a hegemony or not.